22+ Best Startups in India 2022
22+ Best Startups in India 2022
India is a place with a significant ratio of startups. According to some estimates, there were 50000 startups in India in 2018. The number grew by 8900-9000 in just a matter of the year. It will be not wrong to say that 2 to 3 startups are born every minute in India.
India is the second country in the number of Startups. Based on the Statistics provided by the first guide.  First, United 65,703 Startups, followed by India (8,301 Startups) and the United Kingdom (5,377 Startups).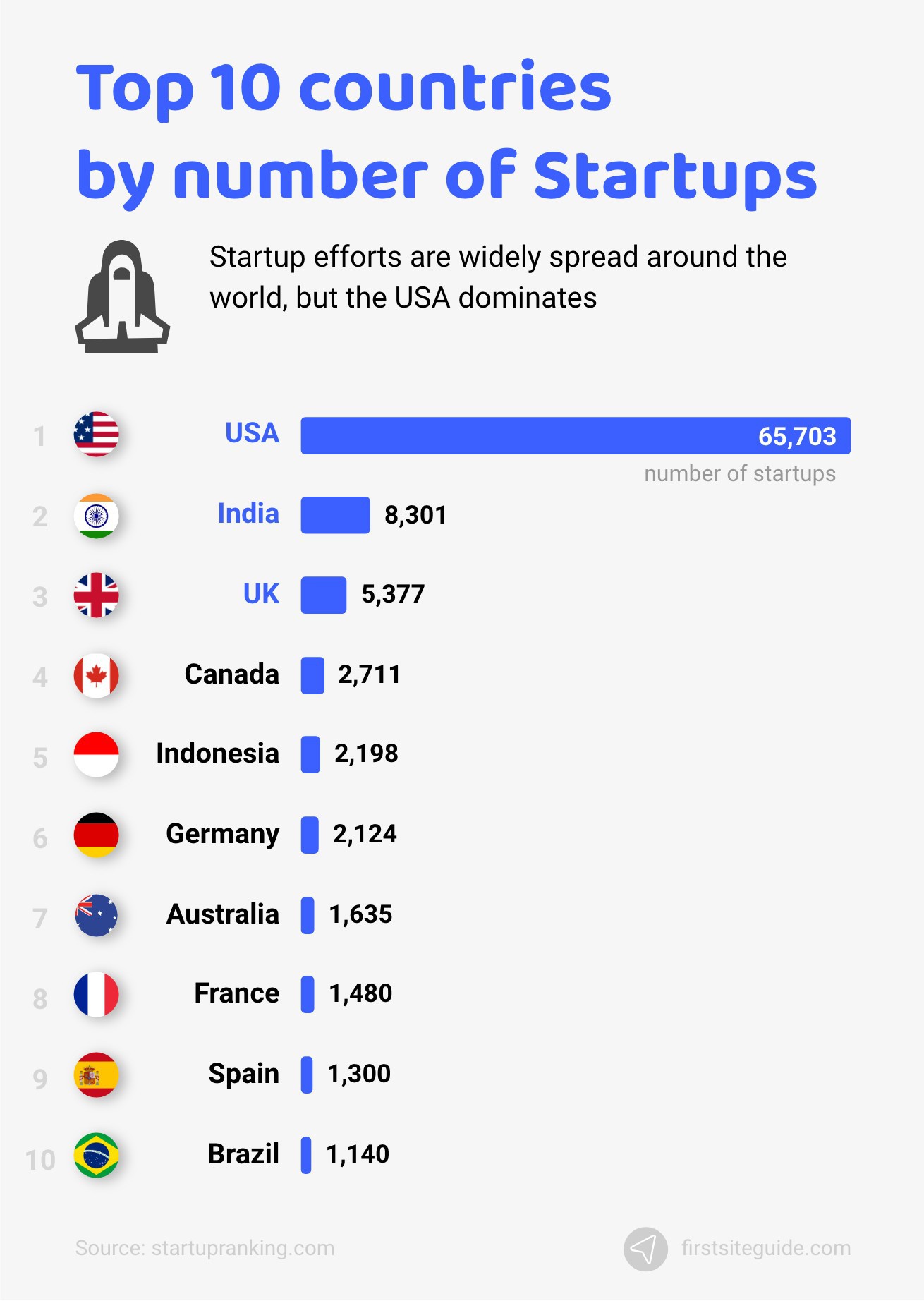 We have gone through some of the best startups in India at the moment! This blog will contain an overview of such companies that have commendable potential! Here is the list of some best startups in India.
Razorpay
Pay your way with Razorpay!  They make it easy for businesses – big and small – to accept payments digitally, with minimal effort and maximum ease. With an extensive products suite that includes everything from a payment gateway to capital raising and money parking, Razorpay is your one-stop shop for all payment needs. So go ahead and pay the way you want, with Razorpay!
Playment
Want to create a high-quality ground truth dataset quickly and easily? Look no further than Playment's GT Studio. This no-code, self-serve data labeling platform is heuristically designed to help ML teams get the job done efficiently and cost-effectively. With GT Studio, you'll have everything you need to create diverse, top-notch datasets in no time flat. So what are you waiting for? Try GT Studio today!
Haptik
Imagine a world where all your customer support needs are taken care of by a friendly, conversational assistant. No more waiting on hold for hours! Haptik is the leading artificial intelligence company powering conversational assistants that transform customer experiences. With Haptik, you can get help from a virtual assistant anytime, anywhere.
Mu Sigma
Big Data is today, Big data is tomorrow, Big data is the future!
A big data and analytics company formed in 2004 has the prestige to work with 140 of 500 fortune companies. The startup initiated in India has now got the status of Unicorn in the US. They are envisioned to provide business solutions based on big data and analytics. By employment of big data science and marketing strategies, the decision making for the businesses has been made easy by Mu Sigma.
The startup is the best Indian startup regarding big data and analytics. The company feels the pride to be featured by Walmart as its supplier of the year. Furthermore, the big fishes of data analytics Google and Facebook have made their largest investments in data science jointly with the Mu Sigma.
Website: https://www.mu-sigma.com/
Udaan
The first Startups in India in our list, it is a tech-based startup, aimed at improving the B2B ecommerce solutions! Founded in 2016, the company has its headquarters in Banglore! This startup provides different solutions to small and medium businesses to bring ease of trading to them. No matter if the concern is source supplies from manufacturers or delivering products to the customers, Udaan will be at the front foot to provide distribution solutions to the businessmen across India. The domain of services given by the startup are:
Buy or sell by one click on Udaan with secure payments!
Grow by exploiting new niches or untapped customer bases!
Connect to your manufacturer or seller for better communication!
Discover the best prices, high quality, and great service by using the Udaan Platform!
You can visit their profile at: https://udaan.com/
Delhivery
One of the best startups in India in the supply chain and logistics industry! Either it is B2B or b2C warehousing, cross-border, freight shipment, FTL, or PTL freight, you can trust Delhivery! They have proven themselves over a short period of 9 years! Started from Haryana, now they have spread their logistics operations to various locations including, Goa, Mumbai, and Bengaluru.
This startup provides 24/7, 365 days a year service with a workforce of more than 10000 enthusiasts! The company specializes in Omnichannel solutions, reverse logistics, Online channel integration, express shipping, sourcing, logistics technology, and much more!
Visit the profile of the company at: https://www.delhivery.com/
BYJU's
A big name in the education technology niche! It is the best Startup India in the e-learning niche! The journey of this startup started in 2011 with an e-learning app focused on competitive exams and k-12 class students! Later on, in 2015, another app for students of classes 4-12 was launched! With 47 million registered students and 3.5 million annual paid subscriptions, the startup has proved itself! The founders translate their core competencies in 3 pillars that are:
Personalized learning experience
Technology-based learning
Vetted tutors and engaging content
The startup has not stopped to grow. Instead, it has acquired a Palo Alto-based educational games developing company, Osmo, in 2019, to take the experience of learning to a new level! Besides, this one of the best startups in India is the partner of the Indian cricket team!
You can visit their profile at: https://byjus.com/us/
StashFin
Another fintech in our list of Best Startups in India. StashFin is a digital lending Startups offering Online Personal Loans and Line of Credit Card within a few easy steps.
Website: https://www.stashfin.com/ 
Swiggy
A partnership venture startup started in 2014, has proved its presence in the niche of logistics! With up to 5000 employees, the company has been working to provide premium quality logistics services around the Indian territory! The idea of this startup was to take the hustled urban life of India to the next level! They have connected different customers with restaurants and stores over 500 cities! The startup is one of the best startups due to their 24/7 services, tracking freedom, and no hassle of minimum order requirements! They have offices in different locations in India!
Website: https://www.swiggy.com/
Iconscout
Iconscout is a design resource marketplace that enables quick enhancements of designs with high quality icons. With over 2.2 million icons and design assets, Iconscout is trusted by big players such as Amazon, Disney, Netflix, Sony and more. Iconscout plugins are easy to integrate and come with worry free licenses, which is why it is much loved by the motion design industry.
Website: https://iconscout.com/
Oyo
An 18 years old enthusiast Ritesh Grewal was the first drop of rain for this startup! He founded the startup in 2013 with 1 hotel! To surprise you, Oyo is now one of the fastest-growing hotel chains in the world! The startup has covered 800 cities of 80 countries over a short time of 7 years. With its headquarters in Gurgaon, India, the company has more than 23000 hotels and 125000+ holiday homes!
This startup has proved itself to be one of the best startups in India with an extensive technology revolution in the hospitality industry! The startup is often seen investing in modern technologies like cloud kitchens, grand hotels, co-living, co spaces, and much more! This continuous experimentation to flavor the business has led this chain to become a world-leading hotel chain!
You can visit the profile at:
https://www.linkedin.com/company/oyo-rooms/
Snapdeal
A startup in the ecommerce! The vision of providing an online marketplace to make the buying experience to the next level! The online store has lent a way to many regional, national, and international brands for entering the online business of the Indian customer base!
This startup was also founded by a native of Haryana in 2010. With up to 1000 employees, the startup has been providing excellent services for the last 10 years! The company feels pride in serving 600+ cities with 300000 sellers on the platform! Major partnerships of the startup include Alibaba, eBay, Ontario Teachers' Pension Plan, Premji Invests, Blackrock, and many more!
You can visit the startup's profile at:
https://www.linkedin.com/company/snapdeal/
Policy Bazar
The big-name of the insurance industry! Policy Bazar is an online life insurance and general insurance aggregator.  The startup started in 2008 has now grown to a network of 5000 employees. With a prominent share of the insurance sector, their partners are in different insurance categories. It includes life insurance, motor insurance, health insurance, corporate, and loan industry and travel insurance.
The competitive edge of the startup is the comparative analysis of different insurance options. They help customers to compare, rate, and select the best insurance policy to their needs! Customized experience to the users according to their preference is given by different options!
You can visit the profile of the company at: https://www.linkedin.com/company/policybazaar/
InMobi
A digital marketing solution startup! Boys with ppt in Mumbai ventured themselves into this entrepreneurial journey to provide an SMS based research and monetization business. It is the best Startup in India in the marketing and advertising industry!
It was found in 2007, the startup paced up to grow to be featured as the most innovative company in 2018, and 2019 CNBC disruptor 50 company. With 1000 dedicated marketers and advertisers, the company is giving its services globally to different giants of their industries. Some of the notable satisfied customers of this startup include Samsung, LG Electronics, Amazon, Netflix, HBO, BnB,  The meet group, and Lenovo.
This startup specializes in helping business to grow their marketing and advertising campaigns to achieve their targets. The company claims its expertise in mobile marketing, social media marketing, app marketing, and others.
Visit the profile of this best marketing startup of India on: https://www.linkedin.com/company/inmobi/
CureFit
Health, fitness, and mental health! Curefit has meshed technology with health and fitness. An app that is focused on solutions to health, wellness, and fitness problems is the business! From telemedicine to online yoga and exercises to stay fit are part of the services offered. The startup provides customer-tailored services by the professionals of their fields! The modules that are involved are cult fit, eat fit, mind fit, and care fit.
Cult fit is a range of custom workouts, eat fit consists of different healthy recipes. Mental wellness and meditation are necessary to relax in the hectic routines, so comes the mind fit. Whereas the care fit is the professional consultation with the medical specialists!
Offline and online services are provided according to the needs of the customers. Headquartered in Bengaluru, with 5000 employees, the startup has grown fast since its inception in 2016. Visit the company profile at:
https://www.linkedin.com/company/curefit/
Pharmeasy
India's leading health care aggregator was formed to provide the best health care services to the public. Within a short period of 5 years, the startup has grown to a network of 5000 employees with medicine distribution to more than 1000 cities across India. It is one of the best startups in the Indian health care sector with the vision of affordable and accessible health care. The company is headquartered in Mumbai. The company has been using technological innovations in the field of medicine to make the services equally accessible to all classes of society.
The company is striving to employ modern technology solutions to eradicate fake drugs, drug dependency, and drug abuse. Furthermore, through the use of big data technologies, they provide the best information available to patients and doctors. Visit the company's profile at:
https://www.linkedin.com/company/pharmeasy/
Pine Labs
Fintech is also very relevant in our list of Startups in India. You know your product and have finance! But, don't know how to optimize financial cost and market your product! Here comes the Pine labs, a technological solution to the merchants. At Pine lab, they combine best financial optimization services, and consumer marketing agencies to provide cost-effective and efficient marketing solutions to the merchants. The business model was developed in 1998 by some enthusiasts who have grown it to a big company of 5000 employees.
Their services are not limited to, giving cost-effective and sales targeted solutions. Rather they provide ease of doing business by their cloud platform secured payments and minimization of risks involved. Over 100000 merchants across south Asian region trust pine labs for their accessible, affordable and risk-managed speedy last-mile retail services. You can visit the company profile at:
https://www.linkedin.com/company/pinelabs/
Lendingkart
Small business loans made fast, easy, and flexible! The startup was founded by professionals of the small business loan divisions of reputable financial institutions. What pushed them to start this fintech startup was the sluggish procedures of banks to issue loans to small businesses despite their eligibility. They employed artificial intelligence and big data technology to provide a working capital solution to small businesses within a short period.
Initially, the startup was named Adri Infin limited, but later on, the name was changed to Lendingkart. The main aim of this startup was to save small and medium businesses from the hassle of long loan processes at NBFCs and banks.  At Lendingkart creditworthiness of an SME, applying for loans is not assessed on past data and tax information. Instead, the current year's finances and cashflows of applicants are assessed. You can visit the website at:
ShareChat
Social Media growth has been inevitable around the world in recent decades. In human beings, the need to commute is irresistible. An idea of developing a social media platform was brought forward to give freedom to the regional language natives of India. Sharechat is a local social media platform that gives voice to all the natives of India, no matter if a Marathi or a Punjabi. The startup was initiated in 2015 and had been growing at the commendable level in the Indian community. It has been considered as one of the best startups in India and remained the talk of the town! You can log onto the company profile by visiting at:
https://www.linkedin.com/company/sharechat/
Meesho
A Bengaluru based startup was initiated in 2015. It has grown to a network of 1000 employees and 85000+ connections on Linkedin. The concept was 'Meri shop" that can be translated as "My shop." It is a reseller network that has generated revenue of 80 crore+ Indian rupees and 90 lacs+ products sold. The incidental creation of the startup has now become one of the leading ecommerce platforms of India, with the major investment of $120 Million led by Naspers, Facebook, SAIF, Sequoia, Shunwei Capital, RPS and Venture Highway.
Meesho feels the pride to be named as one of the best startups in India, with over 5 million happily served customers. To get more insights into the startup Meesho, log on to the company profile at:
https://www.linkedin.com/company/meesho/
Zomato
If you are looking for the best food points, restaurants, or dine in around you, Zomato is your to-go partner! A food tech startup founded in 2008 by Deepinder Goyal and Pankaj Chaddah has its roots spread all around India. The idea was to help customers make informed decisions when they are deciding for their dine-in destination! Everything started through a website, where you could search all nearby food points! The company has its headquarters in Haryana! It is considered is one of the best startups in India! The company has spread widely with around 5000 people workforce of 32 nationalities! Continuously on the mission of assisting customers in making better-informed decisions about their food choice!
The link to their profile is
Cars24
Cars24 is the last in our list of Startups in India. It is the last reviewed startup of the day, but never the least. For car lovers, it might become their favorite one. Cars24 was initiated in 2015, at Gurgaon Haryana. The vision of the company states to revolutionize the way Indians buy and sell cars. In the car retailing sector, it is one of the best Startups in India. Here we will tell why! The company uses technology and artificial intelligence to the selling and buying experience of the car owners.
The biggest fear of a car seller is an undervalued deal, and for a buyer, it is getting an overvalued car. With Cars24 tech-based solutions, you don't have to worry about your deals! At Cars24, all the auctions are based on artificial intelligence. To get best deals and more details, log on to companies profile at:
https://www.linkedin.com/company/cars24/
Conclusion about Best startups in India
Did you like the post about Startups in India? You may also be interested in 30+ Angel Investors in India.
We have reviewed some of the best startups in India that fall in different niches and industrial sectors. If you are looking for some great startups to make case studies, replicate the business model, or even get the services, this is your deal. We hope that the blog would have brought value to you and actually contributed to your existing knowledge about startups in India.